Posted by Cepheus at 16:55, 31 Dec 2011:
Pleasant end to 2011: Horn of the Abyss release (in Russian)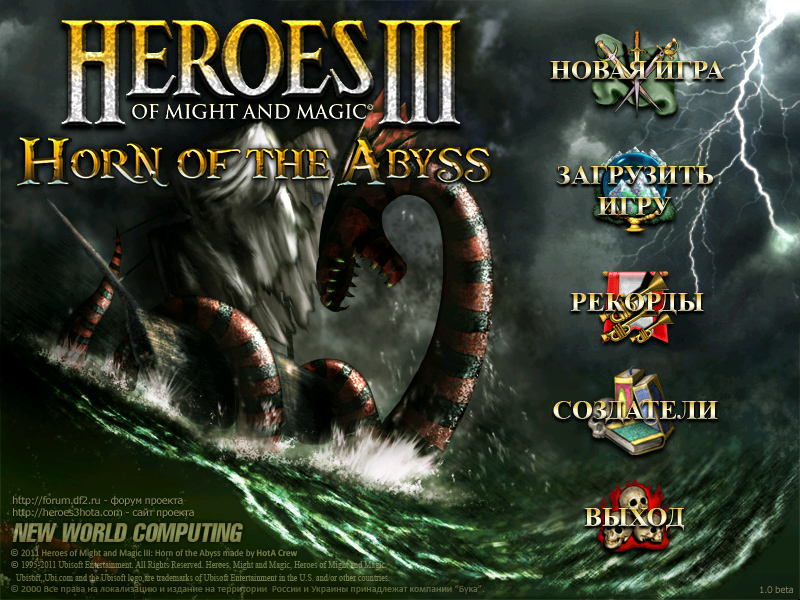 Slightly in advance for me, but at the risk of being sickeningly optimistic, have a Happy New Year's Eve and, hopefully, a great 2012! My good mood stems from some wonderful developments from the Russian community for Heroes III to bring the year to its conclusion: I'm delighted to say an official version of Horn of the Abyss has finally been released! For the very first time in the history of Heroes of Might and Magic, an all-new fan-made town has been added to a game in a stable fashion - no replacing involved.

The pirate-focused Cove faction includes two brand new hero classes, a campaign, creatures and a gorgeous town screen to make Heroes VI break down and cry. There are also various other innovations, too numerous to list - it's essentially the equivalent of a full, commercial expansion for free. I am told that this is, in the grander scheme, "just" a milestone - and that there will be more to come before HotA can really be called "complete".

The playable download is here. Please note, however, that the current release is available IN RUSSIAN ONLY for now! An English version will reportedly be ready as soon as humanly possible, and unless you're a Russian speaker with a Russian version, I advise that you wait for it. If you can't, just make sure you apply the mod under a clean installation of Heroes III Complete, and back up your files! Luckily, even if you don't understand Cyrillic, it's a straightforward install process.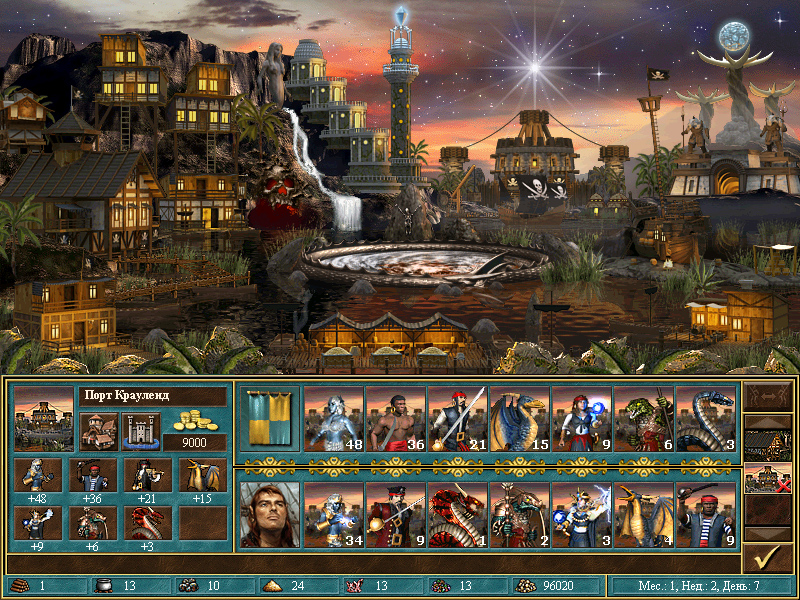 We collectively owe an exceptional thanks to the HotA team - Agar, Alex-ander, Arseny, ArtisanDen, Astaroth, Axolotl, baratorch, Black Phantom, Docent Picolan, Entuser, Fatalist, feanor, hippocamus, Maestro, Morn, Mugais, Rusha, Sav, Spartak, Vade Parvis, XEL, and our uncredited yet superlative emissary, Aleee.

Also highly-commendable is the Master of Puppets mod for H3, by a far smaller Russian team. This one features significant alterations, new features and overhauls to the traditional Heroes gameplay, which I might crudely liken to Firaxis' styles of tactics - social models among them. Read more about its additions and see videos here. It has also been released, but again, is only in Russian for the moment, so stand by for a translated version.

And once again, a happy new and putatively final year to you!
---
Posted by Cepheus at 13:32, 23 Dec 2011:
Heroes VI's patch 1.2 is out, Heroes III news

Merry Christmas/happy happy holidays!

The long, long, long-awaited patch 1.2 for Heroes VI is now out and ready for download with the game updater, crushing a fair number of severe bugs, but most definitely not enough if the acrimonious warfare over at the official forums is to be considered. Alas, it's far from unjustified, as a very substantial number of issues and glitches still remain in the game (with thanks to Nocturnal and other posters for compiling the list). I don't know of any ETA as yet for a prospective patch 1.3, and Ubisoft have yet to announce one.

In Heroes III-related news, the unexpected yet incredible (and highly-recommended by me) Phoenix Mod by Berserker and Bes has been released, translated by the inimitable Salamandre. Nothing for download yet (and no ETAs here either, so don't ask), but there are also renewed signs of life from the Russian community's renewed signs of life mod, and the Forge town project has also emerged with evidence of solid progress.

Have a safe holiday, and steer clear of any game-breaking bugs if you travel the roads of Ashan! :)
---
Posted by Cepheus at 11:58, 7 Sep 2011:
Heroes V art director suffering from illness, and other news

Dexter informs me that the art director of Heroes of Might and Magic V and its expansion packs, Alexander Panov from Russia, is currently suffering from melanoma, with miniscule chances of surviving the disease unless he receives the necessary treatment in Israel.

Fundraising for this endeavour is taking place through the site WebMoney, and any donations are encouraged with gratitude (here is a Google-translated version of the donation effort's plea). We wish the very best to Alexander in his trying situation and hope he prevails in battling the disease.

Heroes VI has been delayed until October 13th to facilitate the implementation of feedback from the beta, which continues to run under the 1.4 patch. A demo, with less content, is also available for non-testers. For a comprehensive summary of what has gone on since the previous headline, check the News and Information topic (with emphatic commendations to Alcibiades and the various members of HC who keep it updated).

VCMI, the project to recreate the Heroes III engine to allow for greater customisation, has been patched up to build 0.86. The official site and forum can be found here. Special kudos to Warmonger for tirelessly keeping us posted on the project's progress at the boards.

Finally, my personal apologies to readers for the recent long delay between news posting, and expect more frequent updates in the coming weeks.
---
Posted by Cepheus at 13:10, 23 Jun 2011:
Heroes Chronicles available for download at Good Old Games

Taking a quick break from the Heroes VI hype to notify you that Good Old Games is now hosting the elusive Heroes Chronicles, a rare series of eight campaigns based on the Heroes III engine released by New World Computing in 2000. Though adding nothing new to the gameplay, the Chronicles - starring the character of Tarnum - featured extensive and extremely well-written storylines, and strongly fleshed out the background of Antagarich while also setting up the events of Heroes IV.

I also wish to shine a spotlight on an amusing and equally well-written blog by Kevin Sung, aka Lotusreaver, named Revisiting Heroes of Might and Magic III. I was entertained to watch as Lotusreaver completed the Restoration of Erathia campaign, comparing its storyline to Heroes V and pointing out amusing yet charming shortcomings in the plot. The blog is criminally undervisited, so please take a look, and also his even-funnier Heroes V In A Nutshell thumbnail summaries from earlier.

The Heroes VI stress test has already come to an end but I am continuing to receive a healthy number of beta requests every day. The enthusiasm is good to see, but it is not possible for me to grant new keys, sorry. I'm also completely unequipped to help with the sheer number of questions about technical difficulties and installation, so please don't email me about this before you've read the thread dedicated to the issue.

To those of you who should have gotten access but didn't, due to oversights or missed emails, I apologise deeply and, while I can't make a promise, I am doing my best to arrange for you to get free access to the public beta, which begins on June 28th.
---
Posted by Cepheus at 15:56, 19 Jun 2011:
H6 beta: Time is almost up

No new beta requests will be accepted at this point. I am sorry to everybody who was late in sending a request, but there is only so much room.

If you have not yet sent me your email address and Ubisoft forum account name, you have until 11:00 GMT to do so. Otherwise I cannot arrange for you to receive access.

I will not spam your email inboxes by sending more confirmation emails, but if you want to check for certain whether or not you are on my list, you can ask me at hcheroes6@hotmail.com and I'll let you know as soon as possible.
---
Posted by Cepheus at 12:59, 17 Jun 2011:
First batch of responses sent out

A couple of minutes ago, I sent out a new email to (hopefully) everybody who volunteered to join the stress test beta before 5:40 GMT, June 17th.

If you sent me a request AFTER this time, you will be a second priority tester, and I cannot guarantee you will receive access to the beta.

If you sent me a beta request BEFORE that time, but did not receive an email, you are a first priority tester and I apologise - let me know at hcheroes6@hotmail.com.
---
Posted by Cepheus at 13:43, 15 Jun 2011:
Welcome to the Heroes VI beta - first come, first served

Your turn-based strategy series needs you!

Ubisoft are practically giving away beta keys, and we're looking for 800 people to join the Heroes VI playtests. If you want in, simply send me an email stating that you want in, from your desired email address at this address, and we will do the rest:

-- hcheroes6@hotmail.com --

Everyone is welcome. We're in a wild hurry to get as many people as possible, and as such, it's first come, first served! However, please be aware of the system requirements. Very important. If you find that you can't run the game upon loading up the beta then the effort is wasted.

There are many, many, many keys left to be given, so please invite your friends, your enemies (:P) - anyone who is willing and able to play the game.

And no, this is not a June Fools' joke!
---