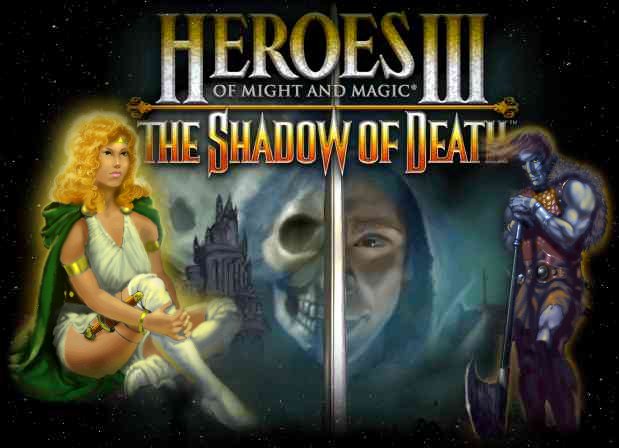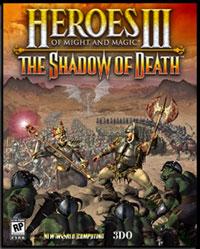 Heroes of Might and Magic 3: The Shadow of Death is an expansion pack that includes the original game (Heroes of Might and Magic 3: Restoration of Erathia), does not include the Armageddon's Blade expansion, but includes most of its features such as the new neutral creatures. Heroes of Might and Magic III: Complete is the best bundle as it includes the original and both expansions. One thing missing in Heroes III: Complete are some expansion campaign video clips.
New Features in Heroes 3: The Shadow of Death:
7 new campaigns with selectable difficulty level
38 new stand-alone scenarios
12 combination artifacts
New teleport monolith sets and 7 new terrain overlays
Map editor features mass cut, copy and paste
Support for Logitech's Wingman Force Feedback Mouse
Changed unit stats for Lizardman, Serpent Fly, Angel and their upgrades
(see Heroes 3 Fortress Creatures and Castle Creatures pages for details)
Moats will now inflict a certain amount of damage (70 or 90 hit points) each and every turn you have a creature in them except for the Tower which has mines that inflict 150 damage once
All Armageddon's Blade expansion features (see Armageddon's Blade Features page) except AB scenarios, AB campaigns, random map generator and the Elemental Conflux town
Shadow of Death Storyline
Like several threads braided into a single string, Sandro the Necromancer manipulates four unsuspecting heroes to do his bidding. Yog, the uncertain barbarian, and Gelu, the elven sharpshooter, are convinced that assisting Sandro will help them reach their dreams of glory. The motivations of the mercenary Crag Hack are much simpler - gold. And fresh from the Succession Wars, Gem simply wants to escape the ghosts of her fallen friends but soon uncovers new horrors.
With the help of these unwitting companions, Sandro assembles two artifacts of tremendous power. World domination is within his grasp. He stands at the brink of invading the good lands of Erathia and AvLee unless these four heroes can band together and assemble the Angelic Alliance - the only artifact that can give them the strength to stand up to their enemy.

Use the menu on top of the page below the advertising banner to navigate this section.